Hahn & Sohn Diesel Generator HDE14000 SA3 – 11kW
Maximum power (230V/400V): 11000 W / 11000 W
Nominal power (230V/400V): 10000 W / 10000 W
Output voltage: 230V/400V
Nominal current: 18.0A
Hahn & Sohn Diesel Generator HDE14000 SA3 – 11kW - 2 Cylinder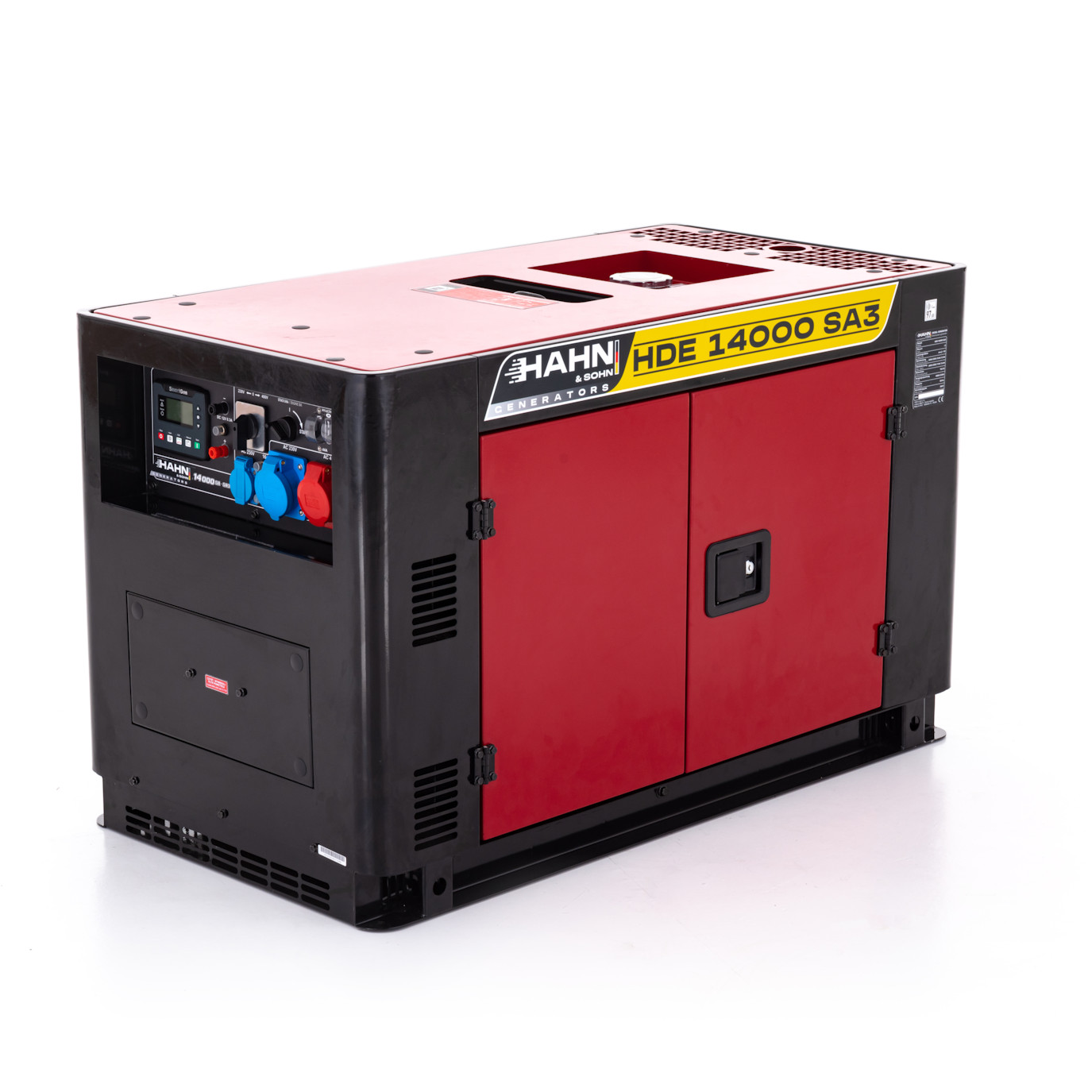 The modern diesel generator impresses with its powerful performance, reliability and trouble-free operation. The Hahn & Sohn HDE14000 SA3 is versatile: on construction sites, events, in agriculture or in the household. The power generator is also suitable for emergency power supply.
Powerful engine
We have equipped the power generator with an engine of the highest quality. The air-cooled 2-cylinder engine with a displacement of 875 cm³ delivers an impressive 15 kW. With such power, you can rely on the generator even for very demanding operation or when used as an emergency power source.
Reliable and long operation
If you are looking for a power generator that can guarantee a long and steady power supply, the Hahn & Sohn HDE 14000 SA3 is a good choice. Thanks to the large 46-litre diesel tank, the power generator can run for hours without the need to refill fuel.
Noise-reducing housing and low-vibration design

To increase your comfort and safety, we have equipped the power generator with a high-quality casing. Thanks to the metal housing, it is much quieter. The low noise level of the power generator and the reduced vibrations make it much more pleasant to use. The solid cover also protects the unit from damage.
Electric starter
Only one button needs to be pressed to start the generator. The electric starter makes operating the unit much easier.

Practical control panel
An ergonomic control panel is located on the front of the generator. It informs you about the status of the power generator and enables you to operate it easily. This makes the operation of the unit very comfortable and easy right from the first start-up.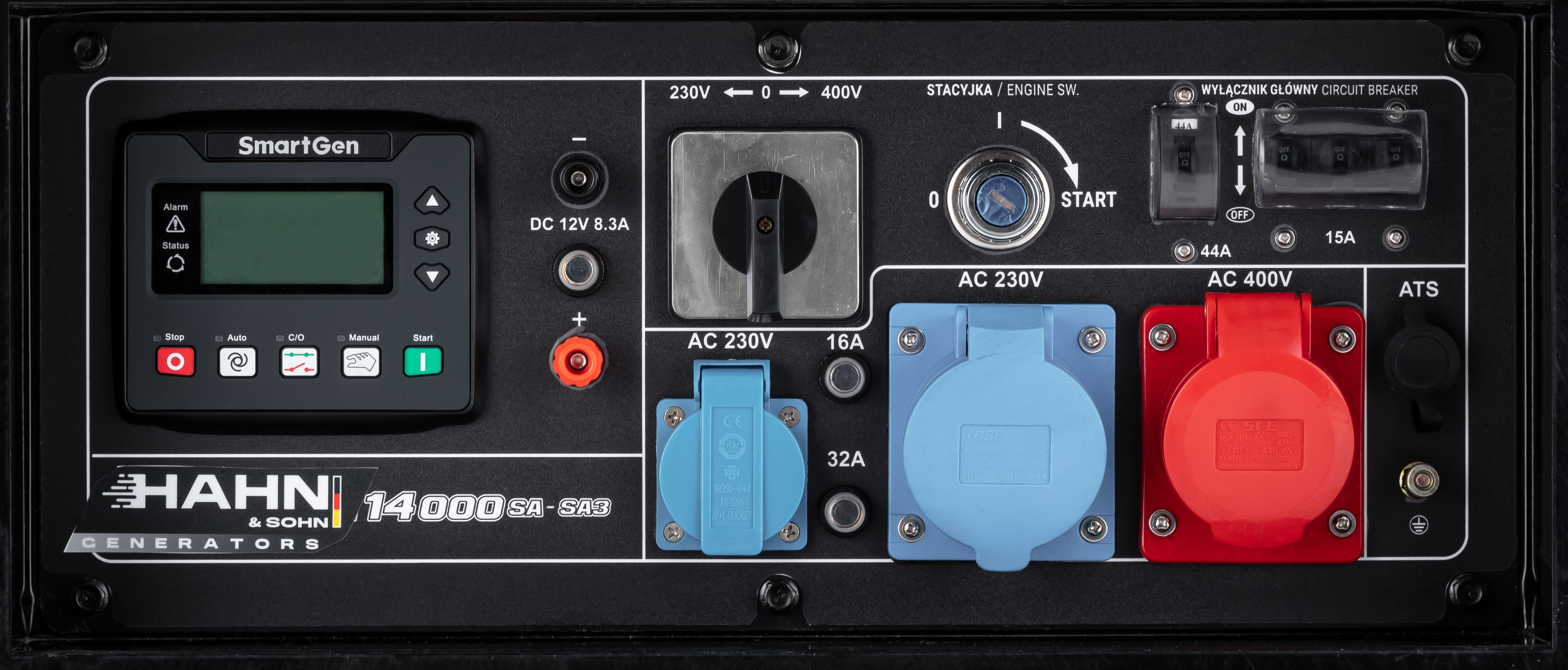 Single-phase and three-phase operation
The HDE14000 generator can be operated in single-phase or three-phase mode. It then supplies either 230V (single-phase) or 400V (three-phase). The resulting power is either 10KW/10KVA at 230V and 10KW/12.5KVA at 400V (nominal power) or 11KW/11KVA at 230V and 11KW/13.75KVA at 400V (max. power). The control panel ensures easy switching between modes. The power generator is therefore an all-rounder and can be used at home, in the holiday home, as well as on construction sites or in the company.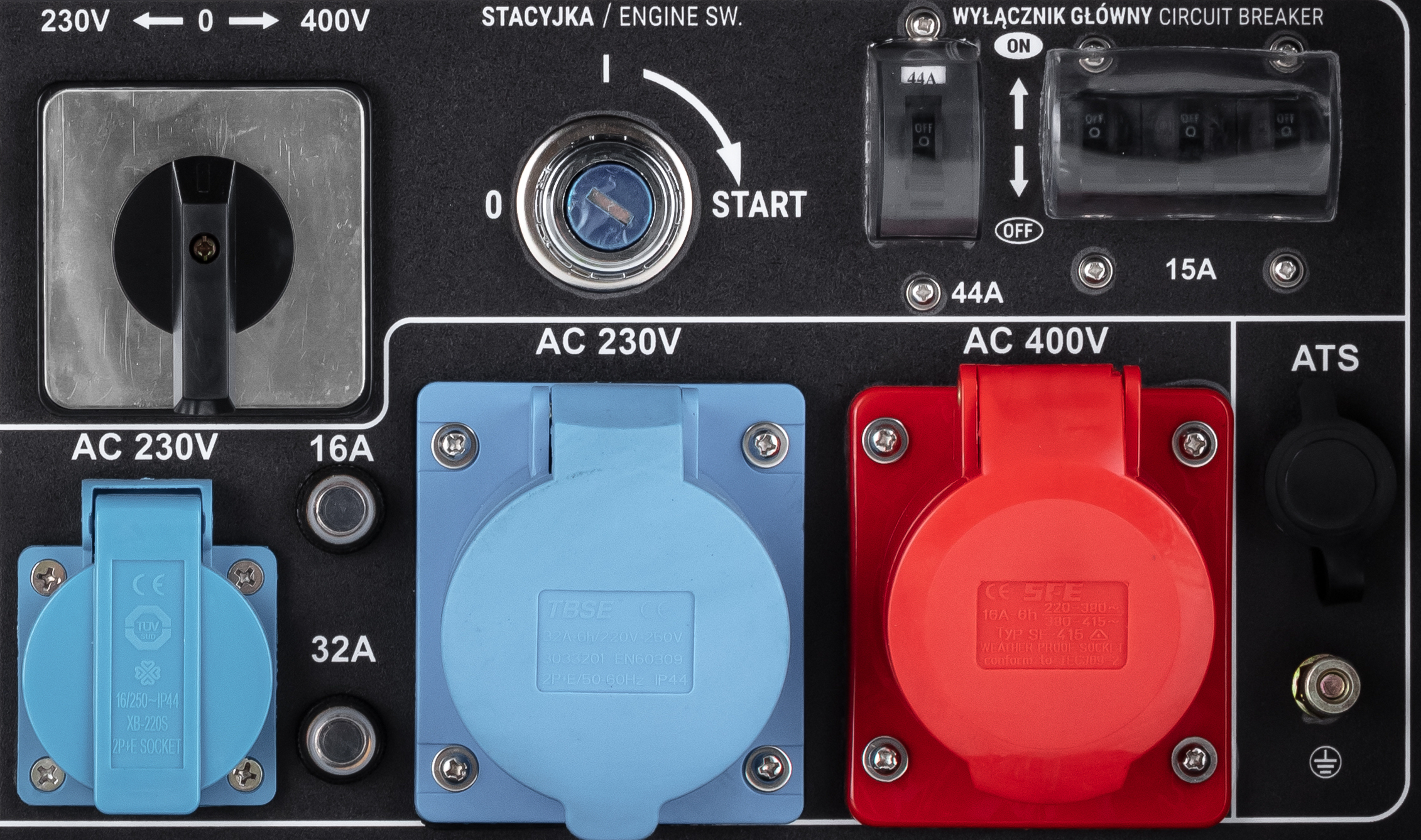 Oil sensor
The power generator has an oil sensor that indicates in good time that oil needs to be topped up or changed. This helps to prevent possible damage to the engine.
Safe
The Hahn & Sohn HDE14000 SA3 diesel generator is a professional and reliable power generator that has passed all necessary tests and certifications, including emissions testing.
Additional parameters
Category

:

Generators
Warranty

:

2 years
Weight

:

220 kg
Höchstleistung (230V/400V)

:

11 kW / 11 kW - 13,75kVA
Nennleistung (230V/400V)

:

10 kW / 10 kW
Ausgangsspannung

:

230V/400V
Nennstrom

:

18,0A
Tankvolumen

:

26l
Motor

:

Dieselmotor
Motortyp

:

Zweizylinder, 4-Takt, OHV, Luftgekühlt
Motorleistung

:

15 kW
Hubraum

:

875 cm³
Kraftstoff

:

Diesel (kein Heizöl )
Maße

:

1250 x 660 x 770 mm
Umdrehungen

:

3000 U/Min.
Spannungsregelung

:

AVR
Geräuschpegel Lpa (7m)/Lwa, dB

:

65/95
Verbrauch l/Std.

:

1,8-2,5 l
Steckdosen

:

380V (16A), 230V (32A), 230V (16A)
Anlass

:

Elektro
Frequenz Hz

:

50-53
Schieflastfähig

:

Nein
Räder

:

ja
Gewicht

:

ca. 210kg
BK
Branddirektion Karlsruhe
10 Stück Generatoren für Hilfsprojekt in die Ukraine bestellt. Ware kam nach ca. einer Woche bei uns an. Abwicklung problemlos und zu empfehlen. Bei drei Generatoren war die Drehzahl ab Werk zu hoch eingestellt. Mit etwas technischem Verständnis war das Problem selbst lösbar.
WG
Wolfgang Gangl
Haben den Generator heute zum ersten mal gestartet und es hat alles tadellos geklappt. Optisch ein schönes Gerät ohne Beschädigungen, Verpackung ebenfalls in Ordnung. Der Liefertermin wurde zwar immer wieder verschoben, doch in den jetzigen Zeiten ist das normal. ;-) Der persönliche Kontakt über Telefon war immer freundlich und zuvorkommend. Fazit: ich bin vollauf zufrieden.
M
Matze
Generator funktioniert einwandfrei und ist solide verarbeitet. Die Beschreibung sollte ausführlicher sein damit Laien besser zurechtkommen aber mit etwas technischen Verständnis klappt die Bedienung sehr gut ???? Die Transportverpackung war leicht beschädigt und wurde von der Spedition fachgerecht (stabilere Palette) erneuert. Die Lieferzeit ist relativ lang, aber entschuldbar aufgrund der momentan Lage in allen Bereichen der Gesellschaft. Meinen herzlichen Dank an die Firma Hahn Profis und eine Weiterempfehlung erfolgt sehr gern
J
Jens
Liefertermin August 2022 für den Hahn & Sohn Diesel Generator wurde eingehalten, ist heutzutage sicherlich nicht ganz einfach, hat trotzdem geklappt - Super - DANKE dafür. Telefonische Erreichbarkeit: Freundlich und kompetent. Hier war ich positiv überrascht, das hat man nicht überall. Hahn & Sohn Diesel Generator mit Batterie/Steckern und Anleitung erhalten. Jeweils zwei 400V und 230V Steckdosen sind am Gerät nutzbar. Verpackung (auf Palette, durch Karton und Folie geschützt )/ Transport (Lieferzeit knappe Woche) ist i.O. Getestet habe ich das Aggregat noch nicht, dies passiert jedoch in den nächsten Tagen. Ist soweit ordentlich verarbeitet. Die Bewertung schreibe ich aus meiner Erfahrung heraus, mit diesem Onlineshop - zur Info für andere Käufer, ohne Gegenleistung. Fazit Shop: Klare Empfehlung
HB
Heinz Blindert
Das Gerät macht optisch einen guten Eindruck, die Qualität der Verarbeitung ebenso. Einen Probelauf haben wir noch nicht durchgeführt. Bei der Beschreibung vermissen wir jedoch spezifische Motordaten wie z.B. die Motordrehzahl, da wir unbedingt einen Langsamläufer haben wollten. Das war ausschlaggebend für den Kauf des Gerätes (lt Beschreibung). Alles in Allem wirkt das Gerät recht solide. Der Kontakt zur Firma Hahn war auch sehr freundlich und e-mails wurden zeitnah beantwortet. Die lange Lieferzeit ist wohl den Umständen geschuldet, verursacht aber bei der Summe der Vorauszahlung ein wenig Bauchschmerzen. Die Firma Hahn werde ich dennoch weiter empfehlen.
RF
Rolf Fischer
Die Lieferung hat sehr lange gedauert was wohl an der heutigen Situation lag. Schnelle Beantwortung der Mails netter Kontakt.
S
StaMaTec R.Puder GmbH
Habe gesetrn das Notstromaggregat bekommen, alles Top, gute Verpackung, sehr sauber verarbeitet, wirklich gute Qualität, werde nun alles installieren und hoffen, dass ich das Gerät nie brauchen werde, was aber in der heutigen Zeit unrealistisch ist.
WS
Werner Schuck
Heute das letzte von den 2 bestellten Geräten angekommen. Sehr schöne und gut verpackte Geräte. Abwicklung war sehr gut. Jetzt muss ich nur noch die Probeläufe machen. Gehe aber davon aus, dass das klappt.
J
Johan G.
Der Stromerzeuger ist sehr gut verarbeitet und auch leicht zu bedienen,Öl , Kraftstoff auffüllen und nachdem ich die Batterie angeschlossen hatte sprang er sofort an. Am Tank war eine kleine Lackstelle aber sonst ist es ein sehr gutes Gerät.
Die Geräte waren ohne erkennbare Mängel. Leider konnte ich Sie noch nicht in Betriebnehmen. Oel fehlte wurde aber ohne Diskusion sofort nachgeliefert. Telefonich war immer jemand erreichbar und sehr freundlich. Jederzeit wieder.
Reply
Servus, ich kann dieses gerät weiter empfehlen. Auch telefonisch ist immer jemand erreichbar um Fragen zu beantworten
Reply
Related products
Alternative products