Könner & Söhnen Diesel Generator KS 9300DE ATSR SUPER S 230 V (EURO V)
| | |
| --- | --- |
| Voltage | 230 V |
| Maximum power | 7 KW |
| Nominal power | 6,5 KW |
| Engine power | 18 hp |
| Battery | 30 Ah |
| Engine start | Electric |
| Engine type | Diesel |
| Sockets | 1x32A, 2x16A 230V |
| Engine oil capacity | 1,65 l |
| Net weight | 165 kg |
| Frequency | 50 Hz |
Könner & Söhnen Diesel Generator KS 9300DE ATSR SUPER S 230 V (EURO V)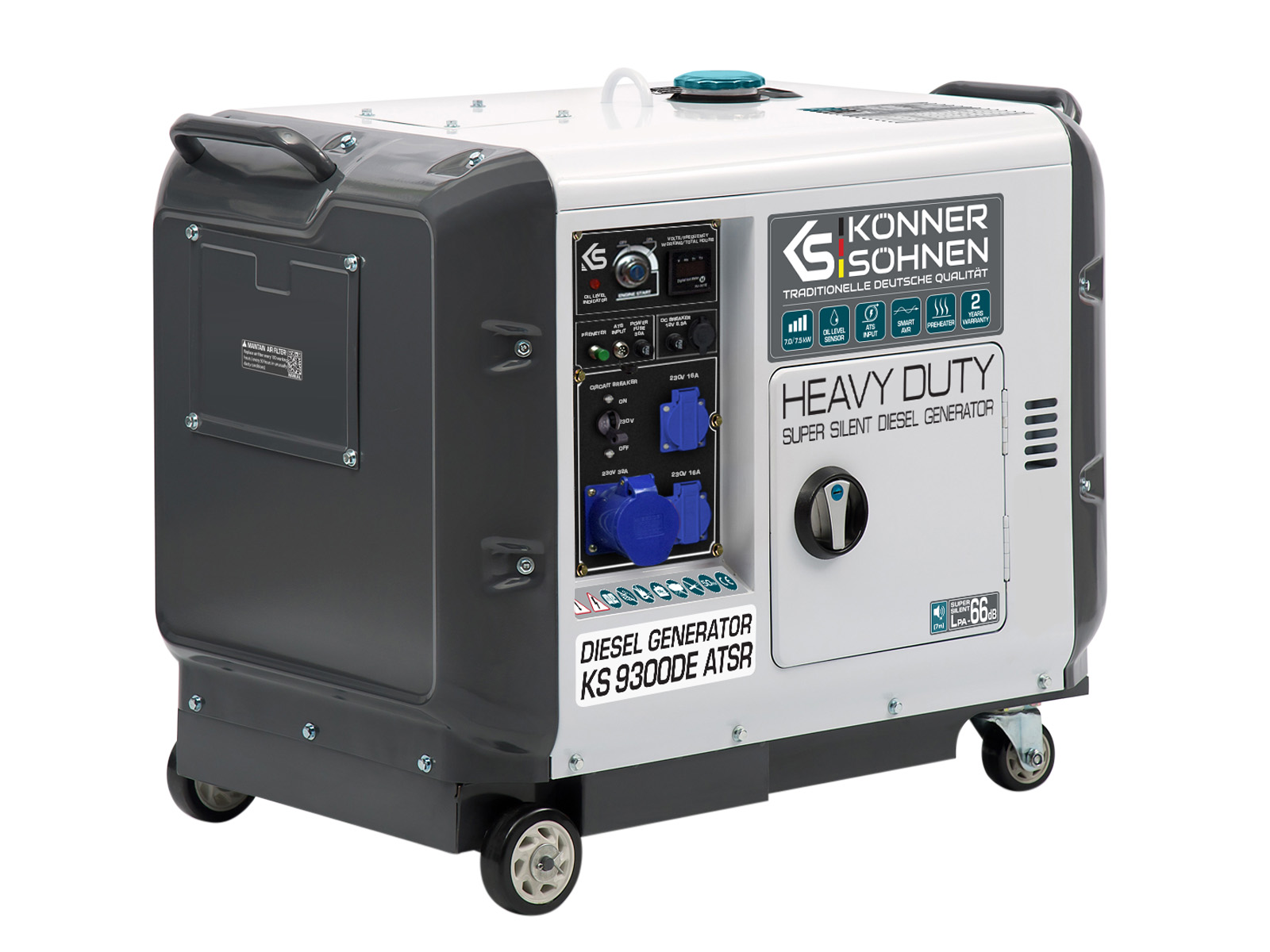 Super silent generator (with maximum power for a single cylinder engine) has an advanced noise reduction system thanks to the double silencer, which ensures a minimum noise level Lpa (7m) of 68 dB even at maximum load.
HIGH PERFORMANCE ENGINE
Every "Könner & Söhnen" motor has a power reserve. The high-performance engines of the "Könner & Söhnen" brand are sure to deliver the specified power! An automatic gain control (AVR) is used in Könner & Söhnen diesel generators. It ensures a constant output voltage of 230 V and is equipped with a short-circuit protection system.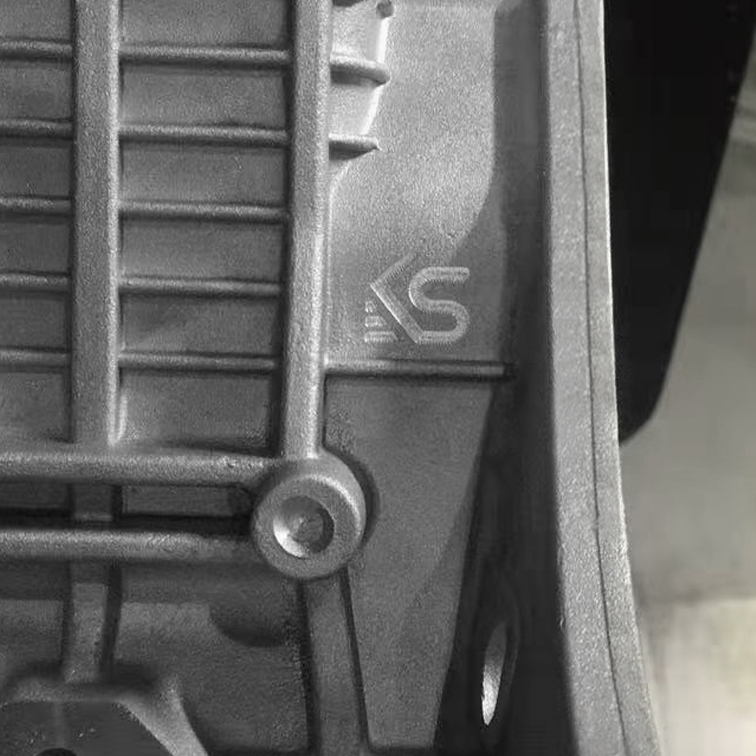 Suitable ATS - KS 4/63
The ATS unit (automatic transfer to emergency power) automatically starts the generator and transfers the load when the main power supply is interrupted and automatically stops the generator when the main power supply is restored.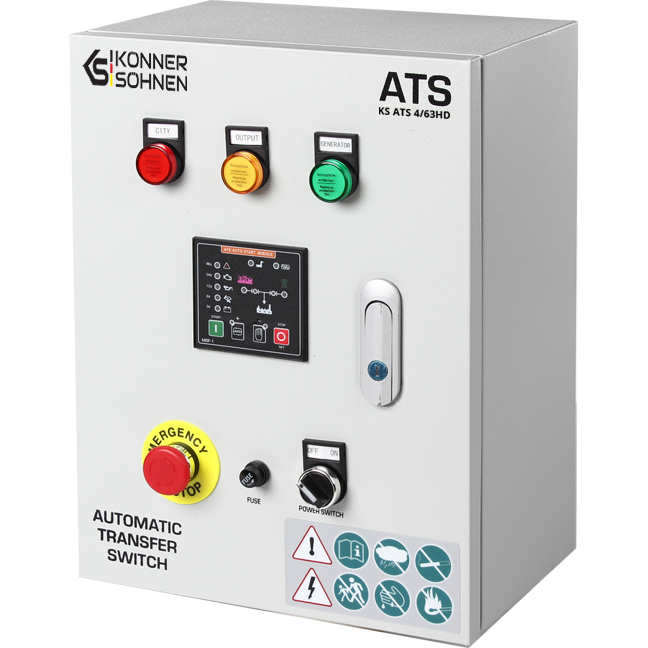 INCREASED ENGINE LIFE
HEAVY DUTY diesel generators are not only suitable as a back-up power source, but also for full continuous operation. The engine life is more than 3000 operating hours, which is confirmed by multi-hour or -stage tests and a warranty. However, the motors are of course as powerful as this when properly operated and routinely maintained.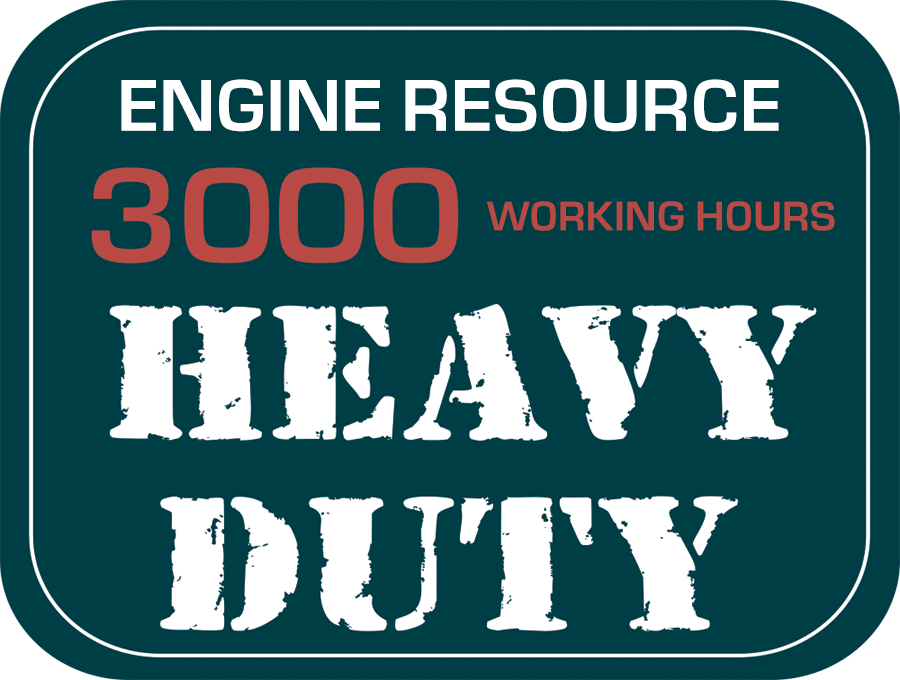 USER-FRIENDLY ERGONOMIC SWITCHBOARD
The user-friendly ergonomic switchboard allows you to easily operate the entire group, requiring no additional skills. A modern intelligent LED display will always show you the operating hours, frequency or voltage values. The information displayed will help you to properly assess the charge on the unit and perform the maintenance of the generator on time, thus extending the life of the unit.
PREHEATER
All HEAVY DUTY diesel generators are equipped with a preheating function (PREHEATER), which allows you to start the generator effortlessly in winter.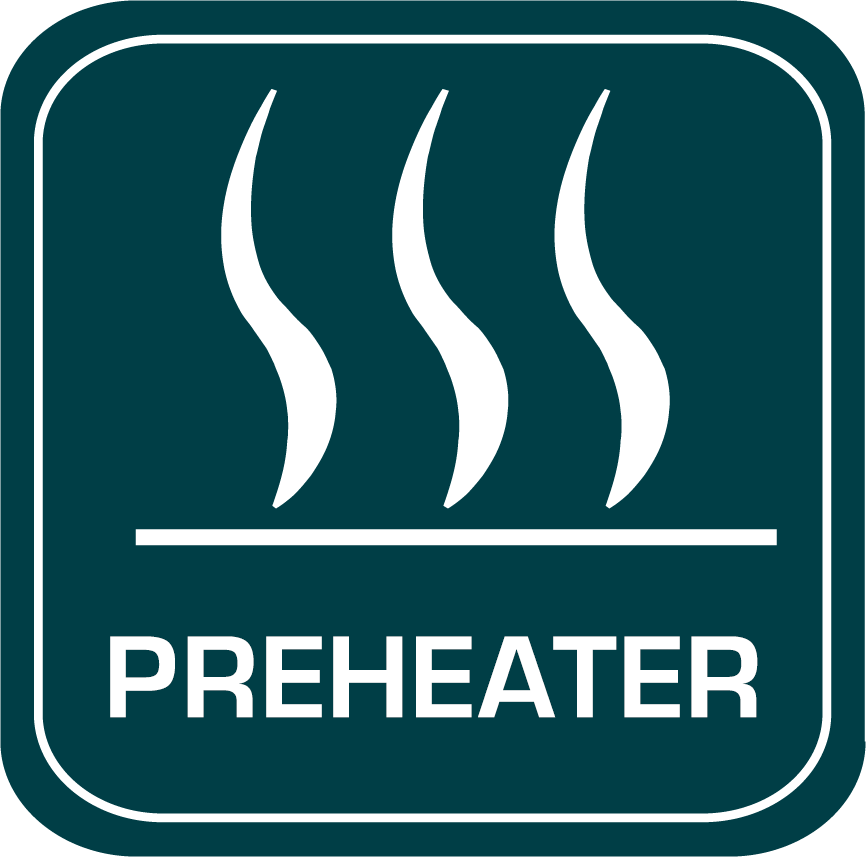 HOUSING WITH DOUBLE SOUND INSULATION
KS 9300 series generators are equipped with a vandal-proof housing with double sound insulation. These models have improved heat distribution inside, which also increases the service life.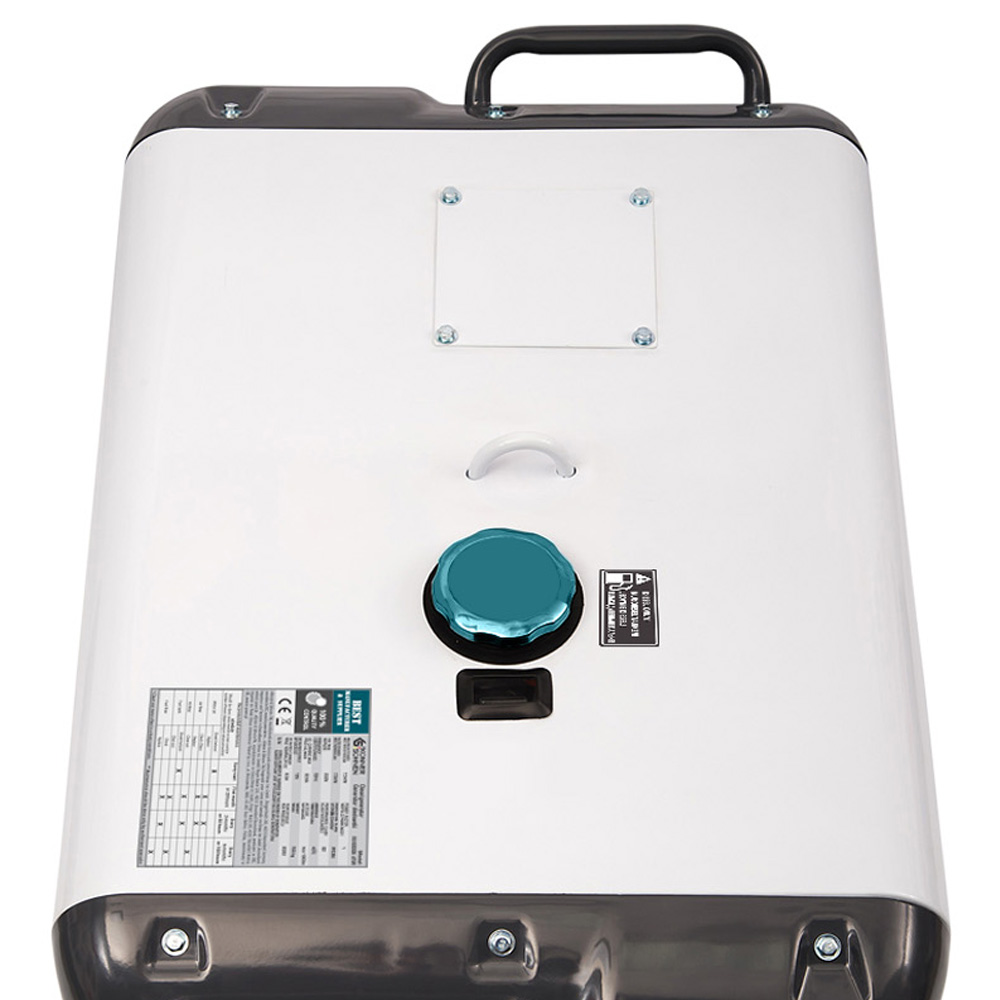 TRANSPORT KIT
The generator housing is equipped with a transport kit that includes 4 wheels and 2 carrying handles for easy handling.
Additional parameters
Category

:

Diesel
Warranty

:

2 years
Weight

:

165 kg
Spannung (V)

:

230 V
Höchstleistung, kW

:

7
Nennleistung, kW

:

6,5
Frequenz, Hz

:

50-52 Hz
Strom, A (max.)

:

32.6
Steckdosen

:

2×16A, 1×32А (230V)
Volumen des Krafftstoffbehälters, l

:

15
Laufzeit bei der Belastung 50%, h*

:

11,1
Geräuschpegel Lpa/Lwa, dB

:

68/93
Modell des Motors

:

KS 520HD-V
Typ des Motors

:

Diesel 1-Zylinder, 4-Takt mit Luftkühlung Viertakt
Motorleistung

:

18.0/13.24
Motoröl-Füllmenge, l

:

1.65
Hubraum, cm3

:

498
Spannungsregler

:

AVR
Anlasser

:

Elektro
Batterie, Ah

:

30
Ambessungen Netto (LxBxH), mm

:

1080x550x800
Nettogewicht, kg

:

165
GG
Gautsch Gerhard
Das Zweite mal einen Generator bestellt und wieder alles bestens. Die Lieferung erfolgte nach Termin-Absprache punktgenau. Seriöser wird es nicht....DANKE
RH
Rudolf Herrmann
Der Abgasschlauch lässt sich wegen dem extrem kurzen Bogen des Abgasendrohrs nicht anschließen. Die Feder am Motor not aus war nicht eingehängt. Am -Pol Kabel war keine Schaube und Mutter vorhanden. Der Tankfekel ist extrem scharfkanntig, hab mich beim öffnen geschnitten.
FL
Frank Langner
Sehr zufrieden, eine ordentliche Verarbeitung. Prima Personal, sehr kundenfreundlich.
V
Volker
..... war mit der Bestellung, der Lieferung und vor allem mit dem telefonischen Service von Herrn Schwan äußerst zufrieden. Das Gerät wurde bestens verpackt auf einer Palette geliefert, Anschluß und Probelauf war alles o.K. Danke !!
AM
Andreas Metzler
Für die Verarbeitung gibt's ein fettes Minus. Leider lagen die Schrauben und Muttern der Batteriepole im Gerät verteilt. Nach dem Probelauf lag eine große Mutter (M10 oder M12) unter dem Gerät. Woher sie stammt, wird sich herausstellen, wenn ich die Verkleidung geöffnet habe. Start und Probelauf verliefen ansonsten zufriedenstellend. Bei simuliertem Stromausfall funktionierte die Steuerung durch die ATS 4/63 gut. Muss sich im Einsatz bewähren. Wegen der groben Mängel leider nur 3 Sterne.
M
Matthias
KS 9300DE Top Teil ,macht einen Super eindruck .Probelauf war gut. Gerne Wieder
DM
Dieter Miesel
Weiterempfehlung des Diesel Notstrom ganz klar 5 Sterne. Zubehör wie Kabeltrommel und Adapter sehr hochwertig 5 Sterne. Super stabil verpackt nur das entfernen der Schutzplatte und der Palette ist sehr Mühselig und bedarf viel Aufwand.
IK
Ing. Willi Johann KASTLER
Die Verpackung ist stabil, aber es hat doch eine größere Reise hinter sich, so dass ein paar kleine optische und aber verzeihliche Fehler zu sehen sind. Zu bemerken wäre allerdings, dass die Schutzplatte des Unterbaues das Gerät wirkungsvoll schützt, aber die Entfernung dieser Platte einiger Mühe bedarf. Das Gerät selbst verdient 5 Sterne und genau so auch Herr Schwan! Weiterempfehlung absolut!
RL
Ralf Lemuth
Das Gerät wurde aus dem Ausland geliefert. Optisch hat es etliche Mängel. Habe von der beworbenen ,, deutschen Quallität" hier keinen guten Eindruck. Da muss die Quallitätskontrolle noch viel besser werden vor der Auslieferung.
VD
Victor-Adrian Diaconu
Anlieferung hat sehr gut funktioniert, Verpackung Top, Gerät macht ein sehr gute Eindruck, noch nicht getestet. Preis-Leistungs-Verhältnis optimal Dia Firma ist zuverlässig Natürlich leichte Verspätung - dass heutzutage normall.
GG
Gautsch Gerhard
Angebot,Bezahlung.Bestellung, Lieferung mit Vorankündigung. Genauso soll das sein . Danke für Alles und gerne wieder
AG
Andreas Göbeler
- Lieferung erfolgte problemlos - alles super funktioniert - gerne wieder - nur zu empfehlen
K
kurt
Versand gut nachvollziehbar,Transportverpackung hervorragend,Inbetriebnahme nach Beschreibung gut möglich,ersten Testlauf mit 30 Minuten sehr gut bestanden,eine genaue Information über die Beschaffung der nicht mitgelieferten Abgasschläuche wäre für alle Kunden sehr nützlich
The products of "Könner & Söhnen" are the result of years of work by German experts who have adopted only the best of world-famous trade brands and taken into account the needs of consumers. Generators and gardening technology of the "Könner & Söhnen" brand were developed by German engineers to realise the term "Volkstechnik" as a synonym for quality and availability.
The K&S trade brand pursues the goal of making traditional German quality accessible and affordable for everyone. In doing so, honest, careful craftsmanship and customer satisfaction are passed on as enduring values from generation to generation, from master craftsman to apprentice, from father to his sons, from manufacturer to consumer. With the aim of guaranteeing our customers tested quality products at the best prices.
Due to the presence of many German brands that occupied their niches in the upper price segments, a new brand was needed that delivered high quality at a reasonable price. Thus the brand "Könner & Söhnen" was born. With a modernised range of in-house manufactured engines for generators, the owner of the "Könner & Söhnen" brand finally decided to expand the range. Now, a comprehensive range of garden tillers and motor pumps of the "Könner & Söhnen" brand is available to consumers. The experts of our company have made every effort to achieve unparalleled quality, which can be purchased at a reasonable price, with reliable service. All products are assembled in the factories under constant control of the German experts. All products are tested at the various stages of production.
All our products meet European and international standards for quality, economy and environmental friendliness (including pollutant emissions and noise pollution). The range of engines used for the generators, tillers and motor pumps of the "Könner & Söhnen" brand is the result of a selection from the world's leading manufacturers of engines, as well as innovative research and permanent testing at every stage of production. For the Könner & Söhnen brand, motors are exclusively developed and licensed which are unique on the market and tailored to the requirement profile of their application. A continuous, individual serial number for our engines ensures constant and careful quality assurance of our products and services. This enables us to monitor the production and service quality. Testing in continuous operation ensures the higher motor performance with specified nominal voltage in long-term use.
The trade brand "Könner & Söhnen" attaches great importance to the satisfaction of its customers and aims to meet the need for reliable, environmentally friendly and cost-effective operation by technically optimising and expanding its product range. With our years of experience and loyal business partners, we provide our customers with a wide range of generators:
Gasoline, hybrid and diesel generators with different power ranges from 1.0 kW to 15.6 kVA;

Generators for special purposes (inverter generators, generators for welding equipment, industry and construction);

We implement and use the latest technologies such as EFI (electronic fuel injection), PVA (alternator that produces a cleaner sine wave), turbo mode (mode with increased starting power of up to 20%), EURO V (the latest exhaust emission standards), etc.

All "Könner & Söhnen" units have a power reserve compared to the specified power, which ensures trouble-free and stable operation over the entire load range. The result of our work is the technology that fully corresponds to the fundamental motto of our team: "TRADITIONAL GERMAN QUALITY".
High-quality products of the "Könner & Söhnen" brand are recognised by international experts and prestigious awards. In 2019, the products of the "Könner & Söhnen" brand received the German Plus X Award in three categories - "high quality", "functionality" and "user-friendliness". The products of the "Könner & Söhnen" brand are already available in over 15 European countries for more than 300 million people.
We offer our customers and business partners a worry-free range of services, from the supply of accessories to competent advice on technical matters and the provision of elaborate marketing strategies. "Könner & Söhnen" is interested in continuous, dynamic development and welcomes new business partners and sales markets.
If you have any queries, please do not hesitate to contact us personally at any time.
Related products
Alternative products